I had a lovely day on Thursday, which was my birthday. I was telling someone that it was mellow, but it actually included much activity. The difference was that
I
was mellow. I'll chalk that up to the good ways I've been taking care of myself.
I started the day thinking on a few past birthdays - a way to include my late mother in the day without feeling too sad - and thinking on the year to come. After we got up, I ate my usual breakfast:
1/2 cup fat free Vanilla Greek yogurt
1/2 cup blueberries
A sandwich, comprised of 1 egg, 2 slices light whole wheat, and 1 slice fat free cheese
Then I spent a little time relaxing with a glass of Earl Grey with sugar-free almond syrup, and my favorite eye candy blog,
Design Sponge
, followed by some luxurious primp-time. Do you find that when you spend a little extra time with scrubs, lotions and masks, you feel scrumptious? I seem to.
We had planned our food for the day on Sunday, which is our usual day-of-menu-planning-and-shopping... but when we were entering our calories on LiveStrong, we realized that we'd be getting 70% of our nutrients after 9 PM if we ate as planned. So we swapped our dinner and our lunch - we headed out to my favorite healthy restaurant,
Tender Greens
, where I had the albacore hot plate. Delicious!
Photo by Flickr user greenlagirl
From there, we took a leisurely drive down Sunset to Malibu. The weather was amazing, and when we arrived the beach looked so inviting that I was disappointed to be wearing dress flats. Fortunately, I remembered that we brought our gym bags, and we always carry a pair of flip-flops in our gym bags! We took a brief beach-walk and enjoyed the sunshine.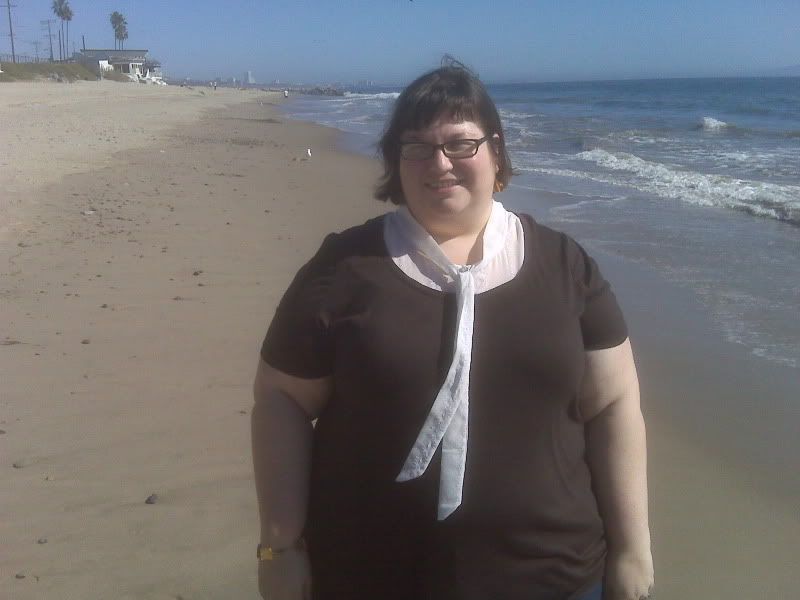 You can't tell it from my crappy Blackberry camera, but the water was sparkling!
On our way back up to the car for a spot of beachfront writing, Tom suddenly threw his arm in front of me. There was a huge snake in our path! He was about 4 feet long, and a wrist wide at his largest. Definitely the largest snake I've ever seen that wasn't separated from me by glass. It took its sweet time to slither back across the cement ramp, so we took pictures while we waited.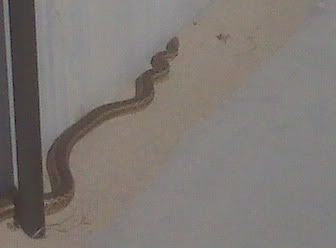 It's hard to tell scale from the photo. Tom suggested that I go stand by it for size reference, and was summarily smacked.
From there, we headed to Beverly Hills for my therapizin', my birthday cupcake from Sprinkles (just the one), and our class at Slimmons, where our butts were thoroughly kicked by Richard. Plus I moved up from 3-pound free weights to 5-pounders. Yow!
At the end of class, Richard and the Slimmons gang sang for me, and I received Richard's birthday gift - a hand-made doll necklace. Complete with 'fro and sparkly tank top.
Sitting, fittingly, on my Food Mover book.
And, of course, a hug from the real 'fro and sparkly tank top.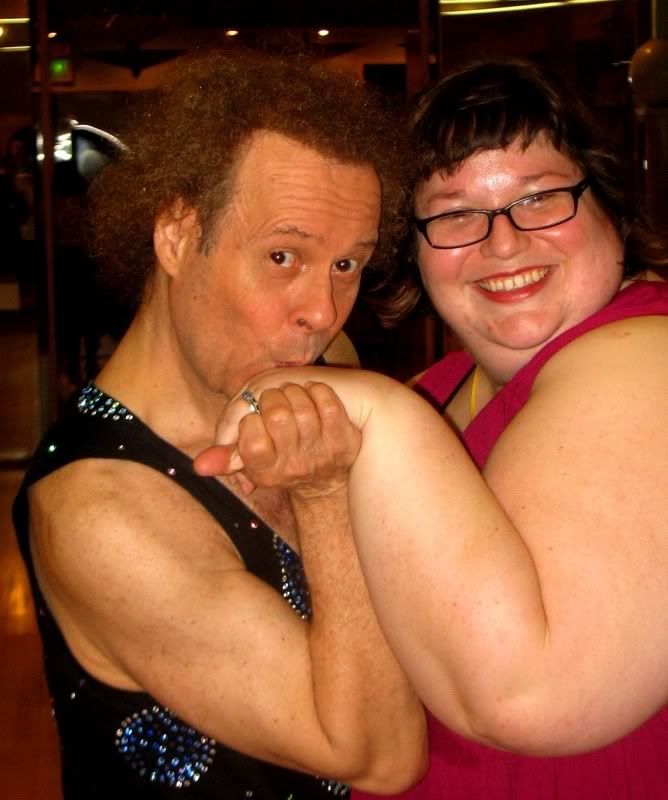 5-year-old Heidi, eat your heart out.
From there, we lumbered home and ate our cupcake and dinner:
Wrap sandwich, with 2 oz of grilled chicken, cherry tomatoes, a Trader Joe's single-serving of light brie (more on this in a later entry!), and some red bell pepper we'd roasted earlier in the week.
A cup of steamed broccoli with lemon and capers
Cue collapse and happy birthday spent. A big thank-you to all of my loved ones who called and reached out on Facebook and elsewhere. You have made my previous 31 special, and I know you'll be a big part of making my 32nd year a wonderful one!